admin | March 5, 2022 | 1:36 am
It was meant to be a celebration of something rare and special. The start was promising, but it did not last long. Playing in his 100th Test, Virat Kohli flattered to deceive yet again. Watched by his mother and brother, and accompanied by his wife Anushka Sharma, Kohli was felicitated by the Board of Control for Cricket in India before the match. The milestone is becoming more difficult to achieve in world cricket now, given the number of matches being played across multiple formats. Batting legend and current Team India coach Rahul Dravid gifted him a special Test cap with 100 emblazoned on it.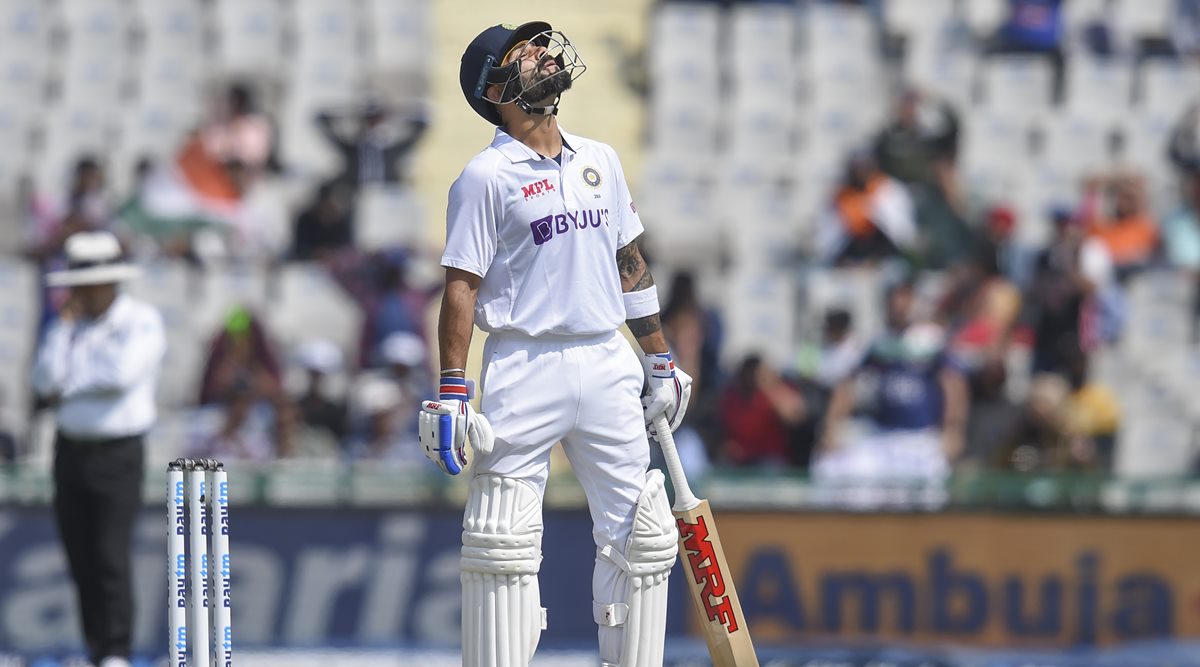 In walked Kohli at the fall of Mayank Agarwal's wicket, and got down to doing what he does best – scoring runs. With Hanuma Vihari for company, Kohli went about scoring briskly and seeds of hope sprung anew. There was little in the Sri Lankan bowling attack to trouble Kohli and a 100 in his 100th game would have been the icing on the cake – after a 27-month long wait. But that was not to be, as he was undone by a delivery from left-arm spinner Lasith Embuldeniya, which spun enough to breach Kohli's defense and hit his off-stump. Kohli was out on 45 – the much-anticipated 28th Test hundred would have to wait.
I was batting really well. The endeavor always is to make sure you play big innings for the team and put the team in a strong position. I have been getting a string of 30s, 40s. That is something I have to be mindful of." So, does he need to have a relook at his preparation for Test matches to ensure he converts the good starts into big scores? "I have been preparing exactly the same way I have prepared, and as long as I am batting well, I am not bothered at all. From a worldly point, people look at milestones and they talk about a lot of things; they are just conversations on the outside.
Must Read: Australia Women Vs England Women, Match 3 Match Prediction
Kohli has began his new journey and ready for challenges
Everyone has different points of view and if people are not getting to see me get those big scores, it's probably down to one's own expectations and not me – standards of which have not been set randomly. I have been performing consistently and that expectation is always there. Even today, the partnership of 90 runs was important for us as we were two wickets down for 80-odd. So, as long as I focus on the right things, I am not too bothered about milestones." About his journey in Test cricket, Kohli said that it has taken a lot of discipline and sacrifices to get to this point.
If I remember correctly, I have missed only a couple of Test matches through injury and one of them happened recently in South Africa. I am immensely proud of how I have handled myself and handled my physique and fitness levels to come this far, and obviously a lot of discipline and lifestyle changes. Playing 100 Test matches has been a test. I always knew it was going to be tough to play 100 Tests in this day and age." He added that staying in bio-bubbles in the last two years, too, has made it difficult for players to spend time working on their game and switching off from cricket.
It's very difficult to get away from it and if you want to go back and work on something in your game, then you have to consider coming back and being in quarantine for five days and then sit in a hotel room where all the progress means nothing. It's not been an easy environment to get away from the game and get time to work on things. That's the reality of the situation that we play in," he said.